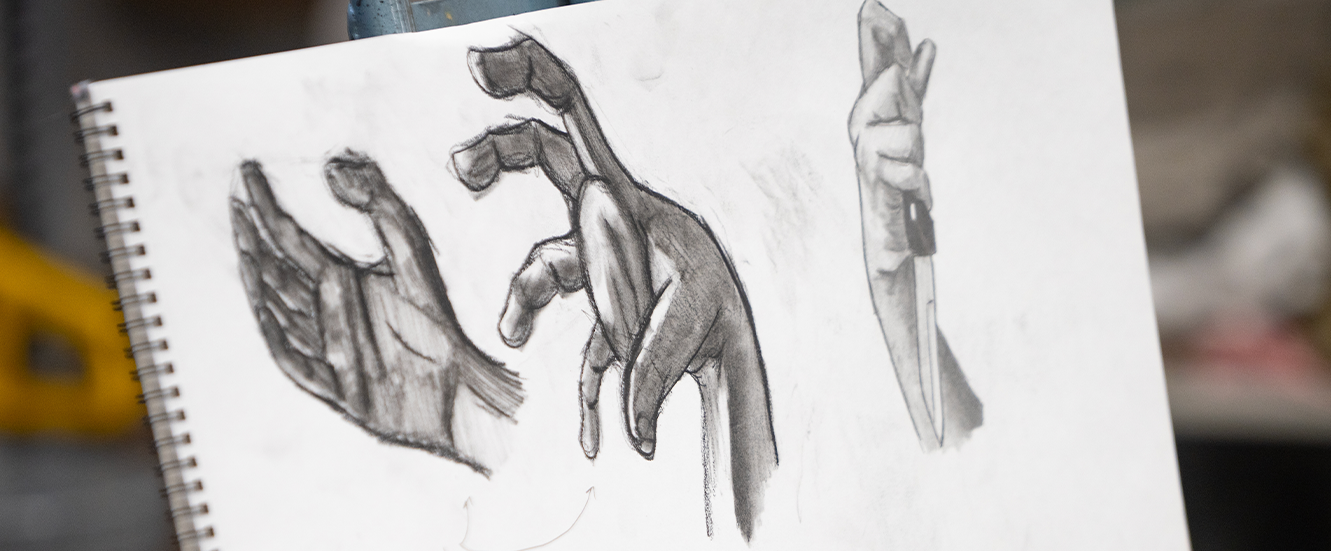 Student Handbook
Find in-depth policies and procedures at Pratt Munson in our Student Handbook.
Transportation and Shuttle
Student Shuttle    
Every Saturday, Pratt Munson offers a shuttle service to Walmart, Michaels, Marquee Cinemas, Target, and the Sangertown Mall. The Saturday Shuttle schedule can be found here, https://sites.google.com/prattmunson.edu/saturdayshuttleschedule/home 
Public Transportation    
Students are encouraged to download the Centro Mobile app to:
Pinpoint real-time bus locations
See estimated bus arrival times
Store favorite routes and stops
Access "stops near me" feature
Create customized travel plans
For more information on the mobile app, visit:    
centro.org/service_schedules/transit-tools/mobile-app
Airports
Hancock International: Syracuse's airport, located 50 miles west of Utica, serves as a hub for major airlines. www.syrairport.org
Albany International: Several connections are available at Albany International Airport, located 93 miles east of Utica. www.albanyairport.com
Train Services
Amtrak Train Station: Located only one mile from campus. Amtrak's local station is at Union Station, 321 Main St., Utica. (315) 797-8962 or 1-800-USA-RAIL. www.amtrak.com
Bus Services
Greyhound Bus Lines: Greyhound's office is at 321 Main Street, Utica, 315-735-4471.
Taxi/Limousine services
Uber (airport transport from Syracuse, NY airport, transportation around Utica)
All America Limousine & Car Service, (315)337-4818 (airport transport from Syracuse, NY and Albany, NY airports)
Yellow Taxi of Syracuse/Ultra Care, (315)471-5151 (airport transport from Syracuse, NY airport)
City Cab, (315)724-5454
Courtesy Cab Company, (315)797-7272
Utica Transportation LLC, (315)735-8511
Car Rental Agencies 
Avis Rent A Car: Oneida County Airport, Oriskany, (315) 768-3140.  
www.avis.com
Enterprise Rent-A-Car: 4946 Commercial Drive, Yorkville. (315) 736-5201.   
www.enterprise.com
Hertz Rent A Car: Oneida County Airport, Oriskany. (315) 736-5201.  
www.hertz.com
Sensible Car Rental: 1430 Lincoln Ave., Utica. (315) 735-3552.
Information Technology
The IT department offers a multitude of support to all of our students. The team is made up of skilled and knowledgeable individuals that can and will provide you with any technical support you need. Besides technical support, the IT department is also responsible for equipment sign-out. Students can check out audio and video equipment from the IT office to use for curriculum assignments and special projects. The office is located in the Academic Center on the main floor across from the computer labs.  

Office hours vary, however for faster support, contact them via the helpdesk system by sending an email to help@mwpaiedu.on.spiceworks.com.
Campus Store
The Campus Store is located in the Student Center. The store carries a full range of art supplies, personal items, Pratt Munson merchandise, and more. The store also features monthly sales on selected items. The Campus Store accepts cash, checks, Visa, MasterCard, American Express, and Discover.  
Hours of Operation: Monday through Friday, 11 a.m. to 5 p.m. during the fall and spring semesters. Any questions or requests please call 315-797-0000 ext . 2227, email?
Reception Desk
The reception desk is located in the Studio Building. Drawing and jewelry supplies, including large paper and metals needed for studio class, may be purchased here. This area also serves as a general information desk and package pickup for all students.  
Hours of Operation: Monday through Friday, 8:45 a.m. to 4:45 p.m., and 6 - 9 p.m., Saturday, 8:30 a.m. - 12:30 p.m., during the fall and spring semesters. Any questions or requests please call 315-797-0000 ext . 2227, email? 
Community Arts (non-credit)
Pratt Munson students in good standing may enroll in any adult community class at a reduced rate of 50% of the listed price. Pratt Munson students are always a welcome addition to the non-credit classes. Students are not permitted to utilize classroom or studio spaces during scheduled Community Arts courses. All schedules are posted outside of each classroom and studio. More Information here,
https://www.munson.art/community-arts
The School of Art program for Community Arts, founded in 1941, offers part-time, non-credit instruction for beginning, intermediate and advanced students. All classes are taught by academically qualified, active professional artists in the finest studio facilities in Central New York. Sessions are available in Fall, Spring, and Summer.
More information on Community Arts at Munson. 
Library
The Munson Art Reference Library, located in the Academic Building, offers an extensive collection of art books, independent and international films on DVDs, and world music CDs for you to borrow for your class assignments or entertainment . The collection includes more than 30,000 fine art books, 2,500 independent and educational films on DVD, 20 current periodical subscriptions, 2,250 music CDs, and 170 full and partial text, image, and streaming video databases . Items may be borrowed and renewed for generous loaning periods.
More about the Library here,
https://www.munson.art/library