Graphic Design
At Pratt Munson, the Graphic Design program goes beyond the conventional boundaries of the discipline
Graphic Design offers a transformative learning experience where you acquire the skills to visually communicate ideas, explore the tools of the field, shape perspectives and messages, foster a sense of community, and embrace a dynamic, interconnected culture. The faculty not only provide guidance and assistance but also foster ambitious ideas while ensuring a strong foundation in traditional practices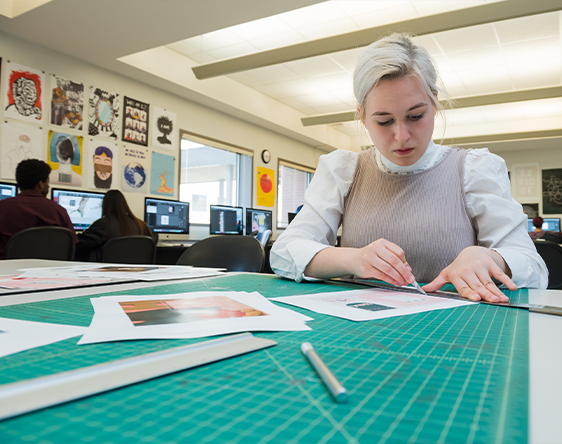 Graphic Design 
The Graphic Design program equips students with the essential skills to effectively convey ideas and solve conceptual problems while mastering technical expertise. From websites to mobile apps and product packaging, you'll learn to create visually compelling solutions across various media platforms, using cutting-edge technology and software, while embracing the flexibility to specialize in your preferred graphic medium.
Our multidisciplinary approach combines coursework in visual communication, typography, design procedures, and illustration. Through simulated professional projects, you'll gain hands-on experience in preparing artwork for publication. At Pratt Munson, we prioritize real-world relevance, providing a supportive environment where world-class faculty offer personalized guidance and feedback.
Learning Outcomes 
The Communications Design BFA program offers students a comprehensive course of study that encompasses the following objectives:
+ Cultivating a professional and interdisciplinary perspective on design, recognizing its impact on economic, social, ecological, historical, and political systems.
+ Exploring form, systems, experiences, and interactions as interconnected modes of knowledge, thinking, creation, and existence, and understanding their effects on individuals, communities, and environments at various scales.
+ Contextualizing creative practices, research, and theory within the context of design history, as well as global, local, and personal narratives.
+ Exhibiting proficiency in critically assessing and challenging the use of tools, technologies, and materials across different media, considering the underlying value systems they embody.
+ Encouraging exploration and experimentation in the dynamic relationship between conceptual thinking and hands-on creation, leading to the development of a diverse and compelling body of work.