explore the beautiful campus of Pratt Munson,
located in upstate New York.
The campus boasts exquisite architecture, the prestigious Munson art collections, a sculpture court, internationally renowned galleries, comfortable on-campus housing, dining options, and modern, fully-equipped studios.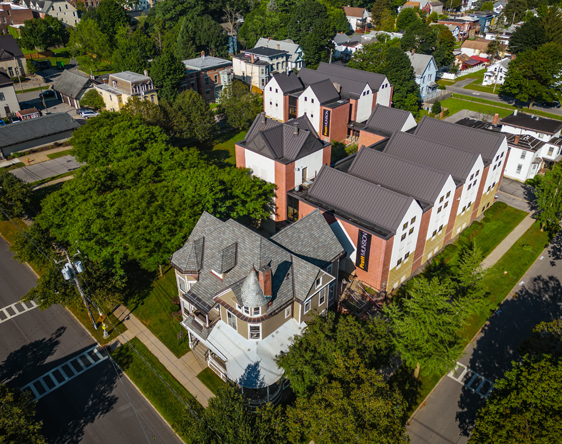 Visit us on Campus
We'd love to host you and your family for a visit to our Utica campus. Campus Tours happen at 10 a.m. and 2 p.m. on Fridays, and reservations are required. Interested in visiting campus another time? Contact admissions. 
Interested in viewing our campus from the comfort of your home? Check out our virtual campus tour!
Attend an Information Session
The Admissions Office will host a live event that includes a presentation about Pratt Munson, our programs, admissions requirements, and more. There will be a Q&A Session to follow.  Events are held in person and virtually.
Upcoming Virtual Information Sessions:
Thursday, December 28, 2023 at 2:00 p.m. EST
Saturday, January 27, 2024 at 10:00 a.m. EST
Saturday, February 10, 2024 at 10:00 a.m. EST
Saturday, March 9, 2024 at 10:00 a.m. EST
Saturday, March 30, 2024 at 10:00 a.m. EST
Saturday, April 13, 2024 at 10:00 a.m. EST
 
Sign-up for an upcoming info session! RSVPs are required in order to log into the live virtual event.
Portfolio Reviews & Counselor Meetings (by appointment)
Counselor meetings and portfolio reviews are optional and simply to give you advice and feedback on your work/portfolio. They are not required for admission.
Our counselors are happy to answer questions about Pratt Munson's requirements, programs, and campus. Review our portfolio guidelines online. Meetings last about 30 minutes and will be held in person, or over Zoom Meetings.
National and Regional Portfolio Days
Visit Pratt Munson in your town!
Register for an upcoming event by visiting,
https://nationalportfolioday.org
These events are an excellent opportunity to meet with us to discuss your interests in art and design and to receive feedback and advice on your artwork/portfolio as well as information about Pratt Munson, our programs, and requirements.  
Full listing of all of the events we'll be attending below! 
National Portfolio Day 2023-24 Events
→ 9/15, Baltimore, MD @ MICA    
→ 9/30, Houston, TX @ Norris Center    
→ 10/1, Dallas, TX @ Southern Methodist University   
→ 10/5, Manhattan, NY @ Javits Center    
→ 10/15, Chicago, IL @ SAIC    
→ 10/28, Boston, MA @ John B. Hynes Memorial Center    
→ 10/29, Philly, PA @ Crystal Tea Room    
→ 11/5, Rochester, NY @ RIT, Gordon Field House    
→ 11/19, San Francisco, CA @ California College of the Arts    
→ 1/20, Miami, FL @ Chapman Conference Center
How to Get to Pratt Munson 
Pratt Munson is centrally located at 310 Genesee Street in Utica, New York.
Directions
From Points East or West
Take New York State Thruway (I-90) Exit 31, follow Downtown Utica signs, and proceed 1.5 miles south on Genesee Street.
From Points South
Routes 12 and 8 to Downtown Utica, take Court Street Exit, proceed two blocks, turn right onto State Street, proceed three blocks.
From Points North
Routes 12 & 8, follow Arts District signs to Court Street exit, turn left, proceed one blocks, turn right onto State Street, proceed three blocks.
Use our campus map to find your way once you arrive.